VOLTSTREAM Series
Automatic Voltage Optimisers
Single & Three Phase
10 to over 1000 kVA
Voltage Optimisation
Cutting Energy Costs by up to 20% and ensuring we all do our bit for the environment
An Ashley-Edison (UK) VOLTSTREAM Automatic Voltage Optimiser (AVO) reduces your energy usage by optimising the electricity supply voltage significantly reducing your ongoing electricity costs and, through the need for less energy, greatly assists in the quest for reducing your carbon footprint.
In addition, a VOLTSTREAM AVO protects electrical equipment against damaging power surges and voltage transients. Through ensuring an optimised supply voltage, your electrical load equipment should be able to operate more efficiently and be more able to obtaining intended design life – with the added benefit of reduced ongoing equipment maintenance costs.
To learn more about the comprehensive ranges of Automatic Voltage Optimisers available from Ashley-Edison (UK)  please check out the video below:-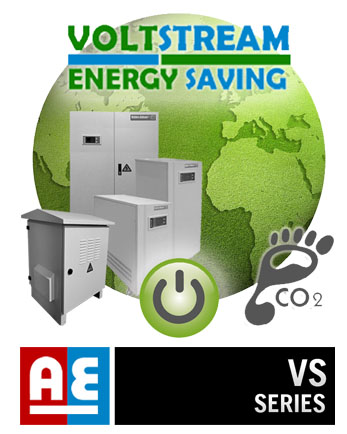 To learn more about our Automatic Voltage Optimisers, or to obtain a quote, please contact us
with your specific detailed requirements.